WIC Ostrava 2019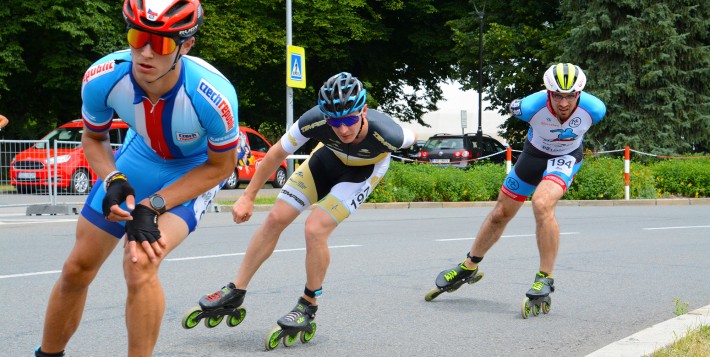 On Saturday, June 15th, 2019, the World Cup race for 33km took place in Ostrava on the main street as every year. The starting field was packed with the world's top names. In the men's category World Champion Felix Rijhnen and in the female category Katharina Rumpus and Quintana Herrera.
On behalf of our team, Ondra Suchý, Martin Labuz and Rostislav Švrček started in the men's category, Michal Prokop, for the Czech national team. In women's category Nikol Hlůšková, Claudia Dohaničová, Nikola Šimonidesová and Alena Švrčková. At the time of the start, the temperature was about 35 degrees and it was clear that the race would be really tough. At 2 pm, the women went to the track and 4 minutes after them the men. Both large groups held together for almost three laps. Already in the fourth round, a three-member group was formed in the top, where Rijhnen, Peula and Bastidas were. Felix Rijhnen decided his victory in the seventh lap and with a two-minute lead he came to Ostrava for victory.
Our Michal Prokop did not get into the top five, but there was very little left for him to be there. He won 11th place and became the best Czech racer. Among the women, our Nicol Hlůšková, who won the 9th place became the best Czech racer, while showing a fantastic performance. Ondra Suchý and Martin Labuz were also great. In the final spurt, Ondra confirmed his experience and won the 18th place. Martin Labuz arrived a few seconds behind him on the 25th place and won 2nd place in the category. Rosťa Švrček wasn't very lucky this time and did not finish the race. Among the women, Claudia Dohaničová, Nikola Šimonidesová and Alenka Švrčková also performed super rides. Claudi and Nikča came together on a beautiful 16th and 17th place. Then Alena followed them to 21st place and 3rd place in category. There were really hard conditions throughout the race fo which we we are sending congratulations to our guys on the sensational results!!!!